The Coxless Crew is made up of six extraordinary heroines, rowing 8,446+ to support two charities: Breast Cancer Care and Walking with the Wounded. Without an escort, the crew relies on the "comforts" provided by their 29 ft pink rowing machine named Doris, as they cross Earth's largest ocean.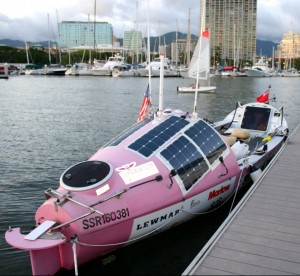 Made of carbon fibre, Doris is fitted with two rowing positions capped by a modest front and back cabin. Four girls participate in each segment of the journey, alternating  between two hours at the two rowing positions and two hours resting/sleeping/eating.
Originally, the Coxless Crew split their trip from San Francisco, U.S. to Cairns, Australia, into three legs totaling 155 days at sea. Needless to say, every journey presents obstacles. Right out of the gate, the girls faced a house size swell and 25+ knot winds. They persevered despite nature's wrath, until a leaky hatch sacrificed both connections between their solar panels and batteries (MPPT boxes). With Doris in need of repair, the Coxless Crew rowed to Santa Barbara, adding an unexpected 16-day leg to their trip. However, they said their spirits remained high as they left once again for their trip to Hawaii.
After 68 days of rowing, the girls celebrated reaching Hawaii by taking one giant leap onto land together. Their arrival overlapped with the Transpacific Race finish at the Hawaii Yacht Club, where I was fortunate enough to meet the crew and Doris. The Coxless Crew are personable and incredibly positive people. Their mission is to inspire women worldwide and they certainly inspired me. Unfortunately, I was unable to see them off to Samoa, but their cause and charismatic personalities prompted me to religiously check their blog and even buy a mile.
Following the leg to Samoa had me at the edge of my seat. The planned 60 day trip turned into 95! After somehow squeezing their way through the numerous hurricanes spinning around Hawaii, unfavorable weather and currents hindered their progress.
The Inter Tropical Convergence Zone (ITCZ), aka the doldrums, stretches about five degrees on either side of the equator. The convergence of the northeast and southeast trade winds, along with the hot air rising from the equator, forms the low pressure system of the doldrums. Weather ranges from calm, hot, humid, windless conditions to squalls, thunder and lighting. The ocean was equally unpredictable, providing inconsistent swell and an unproductive current.
We are caught in the equatorial counter current (ECC) which is pushing us East. This is despite our best efforts to row hard in every session and means that we are not currently making many miles towards Samoa.
When Doris is blown in an unfavorable direction or encounters large waves, the crew may decide to deploy the sea anchor. The sea anchor, stabilizes the vessel, turns it into the wind and reduces drift. Although helpful, deploying the sea anchor still signifies loss of progress.
Despite their challenges of 30+ ft waves, storms, currents, diminishing supplies, and 110 degree temperatures, these women continuously demonstrated courage and optimism.
"The Southern Hemisphere greeted us with squally wind and rain but took enough of a break to allow us to toast to Neptune with the bottle of rum which a friend Paul from the Hawaii Yacht Club gave us especially for that purpose." – The Coxless Crew, Leg 2, Day 55
In addition to the rock solid support they provide for each other, visits from various sea creatures always uplifts the crew. They have encountered several visits from Fernando the tiger shark,  Monty the masked booby, Tommy the sea turtle, Daniel the dolphin, sperm whales, and schooling fish (just to name a few).
The Coxless Crew successfully landed in Apia, Samoa, where they claimed to have been "spoiled rotten." However, their journey continues. As they row the last leg from Samoa to Cairns, Australia, I encourage you to cheer them on by following their blog, sending a message of support, or give a donation. We all have our own Pacific Ocean to cross, so let's lose sight of shore together.