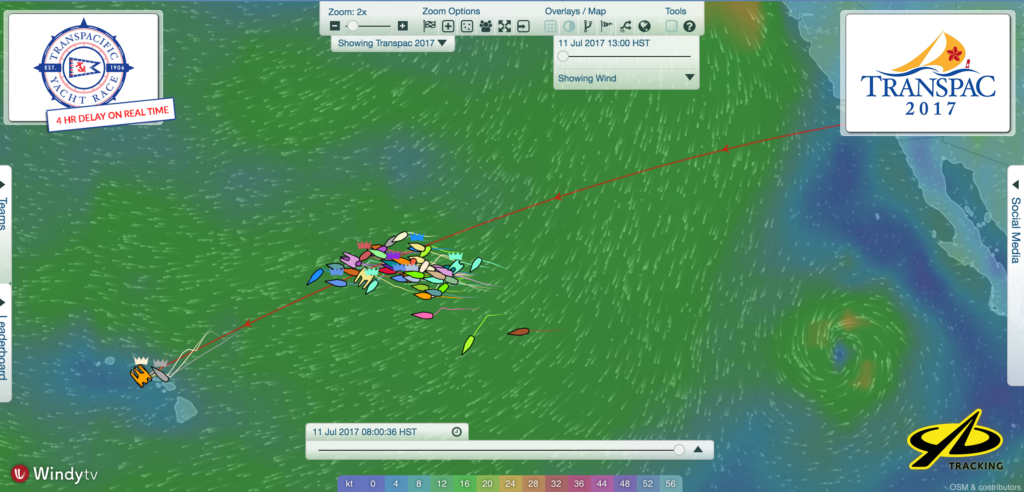 It's all downwind from here! The downwind sailing race, Transpac, has already finished for the fastest few. Meanwhile, the rest of the sailboats are over the halfway point, as they continue to battle from San Pedro, California to Oahu, Hawai'i.
The first known invitation to race across the Pacific Ocean, came from the last King of the Hawaiian Kingdom, David Kalakaua. However, the race didn't come into fruition until 1906, resulting from meetings between businessman/yachtsman Clarence Macfarlane (the father of Transpac), yachtsman H.H. Sinclair, and Hawaii Yacht Club commodore, T.W. Hobron. Despite delays due to earthquakes and boat leaks, three boats finally embarked on a 2,225 nautical mile race on June 11, 1906, which was later called Transpac.
Today, boats are competing in the 49th edition of the biennial transpacific race. Participating vessels range from flying fast multihauls, such a trimarans, to a wide variety of monohauls. To keep the competition even keel, starts were staggered over three days for the different classes of boats. There's still time to follow the remaining Transpac fleet through the Transpac traker http://2017.transpacyc.com/media/  or download the YB racing app to your mobile device.
So cheers to the fastest in the fleet and good luck to those still in a race to the bar, because it's all downwind from here.